Incentives can be the easiest approach to overcome motivation barriers and attract customers' and contractors' attention, as long as the upgrade and reimbursement processes are kept simple and easy to follow. Successful programs have found incentives help entice customers to complete upgrades, particularly during limited time offers when a deadline further motivates action. Because incentives are expensive for programs, determining the minimum level needed to achieve your goals or offering incentives for limited periods can be important strategies for success. Also, according to a comprehensive evaluation of more than 140 programs, successful programs were able to offer lower incentives than other programs that also had incentives.
Enhabit's Applications, Assessments, Upgrades, and Loans Per Month
(March 2011 - July 2012)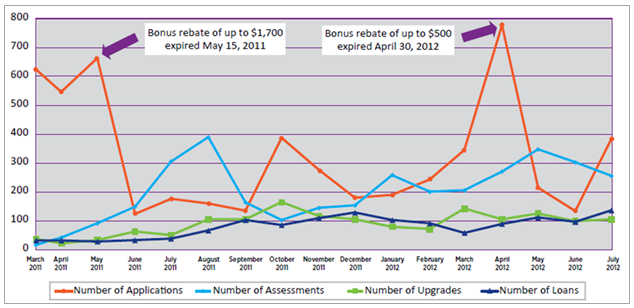 Source: Spotlight on Portland, Oregon: Use Incentives to Get Attention and Encourage Deep Savings, U.S. Department of Energy, 2011.
Programs often discover that offering limited time incentives can bring about a sizable surge in assessment and upgrade requests. A few programs found that they were not sufficiently prepared for the additional work and lost interested customers because they could not get back to them quickly. Some programs added temporary staff for call centers when a big push was set to take place, or created a temporary pool of contractors to help with increased workloads; others scheduled their incentives to coincide with seasonal capacity.
NeighborWorks of Western Vermont's (NWWVT) Home Energy Assistance Team (H.E.A.T. Squad) incentivized homeowners to complete a home energy assessment by offering the assessment for $50, which was $200 less than the typical evaluation cost offered to Vermont residents through Efficiency Vermont. One year in, the program found that its contractors were struggling to keep up with surging demand for home energy upgrades. In 2011, NWWVT established LaborWorks@NeighborWorks (LaborWorks) as a nonprofit temporary labor pool to assist professional contractors involved with the H.E.A.T. Squad during busy periods when they could not keep up with demand or hire full-time help. The extra staffing helped reduce the number of backlogged projects.
When planning its Best Offer Ever promotion, Austin Energy collaborated with contractors to account for their seasonal workload and launched the promotion during the fall and winter, typically the slow season for contractors in an otherwise sunny and hot region of Texas. This careful timing increased the likelihood of upgrades being completed in a timely manner and helped contractors avoid seasonal layoffs. Contractors completed comprehensive energy upgrades in a record 568 homes in the six months after the campaign launch.