Before diving into audience research, take stock of available resources and research then outline your approach for conducting research.
In Their Own Words: Understanding Your Market Through Research and Testing

Source: U.S. Department of Energy, 2012.
While market research approaches can vary, understanding your program's target audiences involves research on potential consumers and their communities to determine:
Consumer values. What is most important to your target audience (e.g., saving money, comfortable home)? Note that values may differ by neighborhood.
Consumer demographics. What are the characteristics of your target audience (e.g., profession, age, nationality, income structure)?
Psychographics. Psychographics include personality traits, values, opinions, attitudes, interests, and lifestyles of consumers. Beyond the basic demographics that describe target audiences, psychographics aim to dig deeper into what makes people do what they do. For example, what does your target audience value most (family, free time, saving money)? What will motivate your potential customers to action (e.g., will they participate in your program if they know their neighbors are participating)?
Housing stock features, age, and commonalities. Do the homes in the neighborhoods you are targeting have common characteristics (e.g., all old, all newly built, serviced by the same utility)? Consider energy sources as well (e.g., oil-heated homes).
Available communications channels and networks. Is there a community newsletter, social media, or a well-respected organization that reaches homeowners in the neighborhoods you are targeting?
Potential community and other outreach partners. Are there opportunities to form partnerships with individuals and organizations within the community?
A market research plan will help kick off your market assessment to understand your program's target audiences. When developing a market research plan, you will want to define available resources, select research techniques, and draft your research plan.
Define Available Resources
Determine how much money, time, and staff you have to devote to audience research for marketing and outreach so that you can effectively allocate resources to collect useful audience information.
Not all research will require significant funding. If possible, use existing research from colleges and universities, research institutions, foundations, and other local sources, including city departments, state agencies, utility partners, and nonprofit organizations.
Because they have done research on their readership, viewers, etc., local media often have good data on target audiences as well. If you plan to advertise in any type of media, ask for their audience demographics and any surveys they may have conducted.
If staff resources are limited, consider soliciting university research partners, which might be able to offer students to support research efforts as part of their academic pursuits.
Has Some Research Already Been Done For You?

Market research can provide great insights into your potential customer base, but it can also become costly, cutting into the funds available for marketing and outreach tactics. Before taking the time and spending the money to conduct new research, see what information is already available about your local market and target audiences from partners and other sources.

You can start with the following resources, but keep in mind, what works for a market in California might not be relevant for homeowners in other parts of the country:

EIA Energy Profiles for 16 Selected States

Source: U.S. Energy Information Agency, 2009.
Select Research Techniques
To better understand your target audience, you might decide to undertake both quantitative and qualitative research (see below). Based on available resources (e.g., money, time, staff), you can consider undertaking a variety of research techniques.
Quantitative research includes numerical data from a large number of people, such as demographic information, opinion trends, or quantifiable responses to questions posed to your target audiences. Quantitative data sources can include census surveys; county and city tax records; or online, mail, or phone surveys.
Census data includes income levels and ages of residents.
Tax records have data on the households that have taken advantage of energy efficiency tax breaks.
Surveys can reveal trends of how respondents feel about the importance of energy efficiency and what might motivate them to pursue home energy upgrades.
Programs can review findings of previously conducted surveys, add questions to a quantitative survey a partner might be conducting, or conduct new quantitative research as needed to ensure specific questions about target audience are answered.
Qualitative research involves the collection of information that is not quantifiable or data-driven, but can offer insights into your target audiences' beliefs and motivations. Sources of this information typically include in-person, phone, or online focus groups and one-on-one interviews.
Email or phone surveys, targeted interviews, or online forums can be cost-effective ways to collect qualitative information, in comparison to in-person focus groups. Although, the latter allow you to observe people discussing your questions in a group setting.
Survey and focus group costs will vary based on the number of questions and participants.
Quantitative vs. Qualitative Research

Source: U.S. Department of Energy, 2014
Qualitative research can be used to guide development of specific strategies and messages; however, it should not be used to predict the behavior of your target audience. Sample sizes for this type of research are generally too small to extrapolate widely. If you want to validate whether the messaging, strategies, or materials you are planning will work with target audiences, and you have the budget to do so, a more extensive survey might be better for predicting audience attitudes and reactions to marketing efforts.
The Market Research Considerations table below outlines various qualitative and quantitative research options, tips, and cost considerations. While many factors will contribute to the cost of each research type (e.g., number of respondents, number of interviewers, depth of analysis) they are listed in order of types that tend to be the least costly to the more expensive options.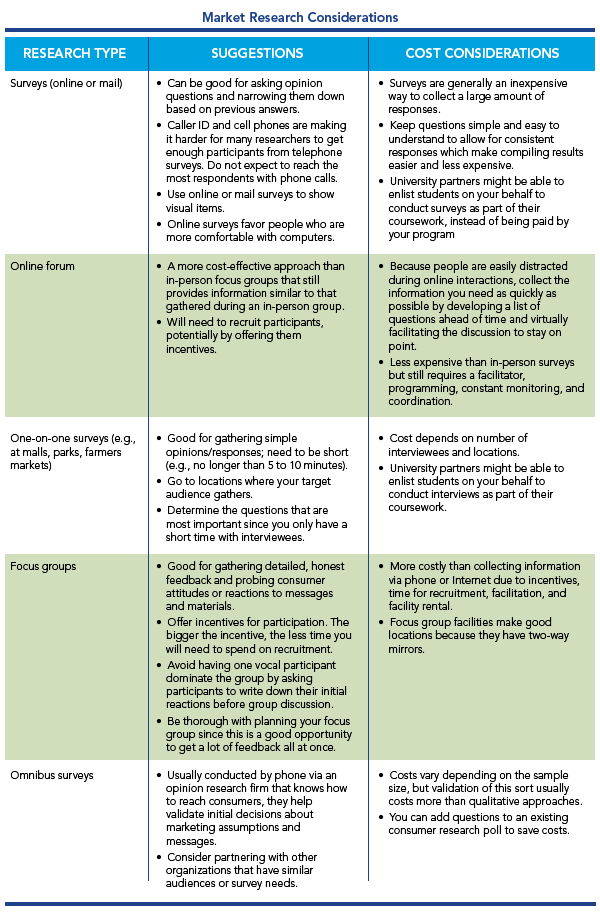 Source: U.S. Department of Energy, 2014.
Chicago Employs Various Approaches to Market Research

Research was helpful for Energy Impact Illinois (EI2) to focus its efforts among its large geographic region and population.

To gauge attitudes toward home improvements and energy upgrades, EI2 conducted quantitative research using 1,600 phone surveys completed by mid- to high-income Chicago households. The surveys provided a number of insights into the target audience's decision process:

While most homeowners viewed energy efficiency improvements positively, they did not necessarily believe improvements were urgent or a priority.
When considering a home improvement, recommendations from personal sources such as family and friends were viewed to be very persuasive.
After hearing about potential financial incentive programs, 8% more respondents said that they would be very likely to make an improvement.

EI2 used this audience information to inform the program's marketing and outreach approach. This presentation provides a full summary of the research findings.

To develop its communications and community outreach strategies, EI2 also used innovative ethnographic research conducted in diverse neighborhoods throughout Chicago by anthropologists from The Field Museum. The research was commissioned by the Chicago Department of Environment to recommend strategies for engaging communities in the Chicago Climate Action Plan. The research consisted of results from nine rapid ethnographic inventories which were used to identify community concerns and assets that could serve as springboards for climate action. Key takeaways from this research include:

While the majority of residents are aware of and care about global climate change, many do not connect it to their everyday lives in Chicago.
The cultural and social backgrounds of residents play large roles in shaping their attitudes and beliefs about climate change, nature, and the environment.
Most residents already engage in a range of green practices in their daily lives, from the mainstream to the creative and community-specific.
Climate action programs will likely be most successful if they are designed and implemented with networks of trusted community organizations and leaders, build on cultural values, and identify and scale up existing positive behaviors.
Most communities are interested in adopting climate action programs that provide recognizable, community-level co-benefits, including but also beyond cost savings.

Learn more on The Field Museum's website.
Draft Your Research Plan
Once decisions about the type(s) of research to pursue have been made, you are ready to draft your research plan. If you plan to hire an organization to conduct research, this information will serve as the basis of your request for proposals. To develop a plan:
Document the types of research you plan to undertake. For example, will you perform online surveys, in-person interviews, or a combination?
Write down who will be targeted. Make a list of the types of people who you would like to target, and be specific (e.g., single-family homeowners with young children living in houses more than 20 years old).
Determine how and when you will conduct research. For example, will you have a team of researchers or just one researcher? Will you call people at home before, during, or after work, or approach them in person at an event during the weekend? If you plan to make calls, do you have the appropriate phone numbers? Do you need to reserve space for an in-person focus group?
Document the questions you will ask. To help you start to develop a list, questions about your audiences' motivations and barriers generate the most useful feedback. Also aim to:

Ask open-ended questions
Avoid leading questions
Remember that the results of qualitative research should not be treated as quantitative research (e.g., do not extrapolate a focus group's responses to an entire population)
Remain aware of self-reporting biases (e.g., when respondents give an answer that they think you want to hear or that they themselves want to believe).
Do Not Reinvent the Research Wheel

Check out the Toolbox tab to access resources Better Buildings Neighborhood Program partners used to conduct their audience research, including sample surveys.