Research and analyze the specific barriers, needs, and opportunities for a residential energy efficiency program in your community.
Program Design & Customer Experience – Assess the Market
Description
Before designing your program, assess the market to help inform your decisions about your target audience, what services to provide, and how best to deliver those services. Don't assume that you know what your market needs and what motivates your customers. You, after all, are most likely not your program's target audience. Instead, do your homework to fully understand your market and craft your program to fit the specific needs and opportunities in your community.
This handbook provides an overview of market assessments and links you to more detailed information about assessing specific components of your program, including information sources and strategies for data collection. It then helps you integrate information into an overall understanding of the market and your options for program design.
A thorough assessment involves specific assessments of:
Illustration of Key Content of an Integrated Market Assessment for Program Design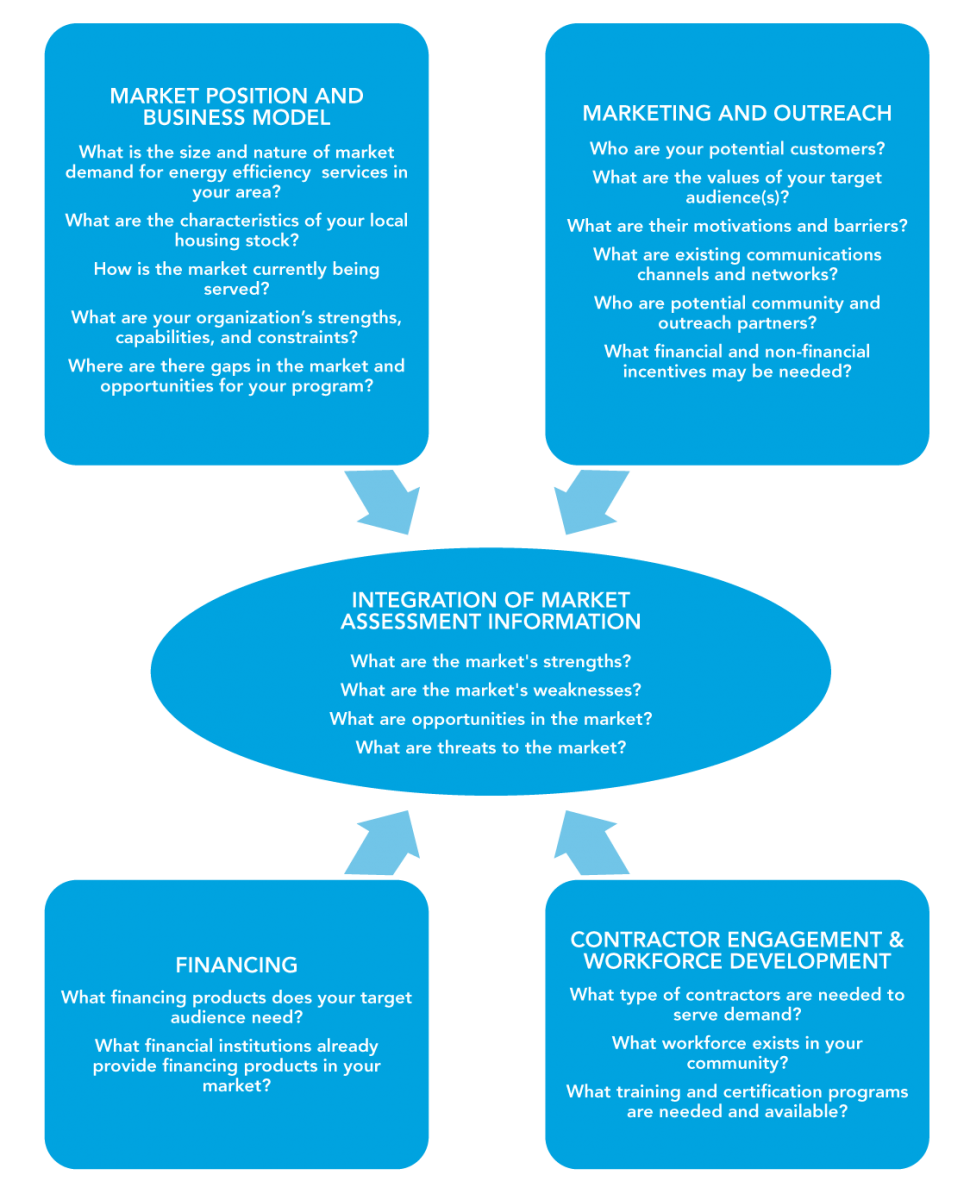 Source: U.S. Department of Energy, 2014
Market assessment is essential before you begin making program design decisions. It will help you craft a program that fits the particular opportunities, needs, and barriers to home energy upgrades in your community and help you with critical design decisions, including:
Customers to whom you will offer products and services
Products and services your program will provide
Mechanisms to deliver products and services to your customers.
Key steps for assessing the market, covered in this handbook, are:
Understand market demand, local policies, and building stock
Assess your potential customers' motivations for home energy upgrades
Assess your potential customers' needs for loans and other financial products
Assess your local contractor network and workforce development resources
Analyze program strengths, weaknesses, opportunities, and threats (SWOT) to inform design
Tips for Success
Make sure there are enough customers in your target market to meet your goals and attract partners
Many programs that focused on a specific neighborhood or other small geographic areas have found it difficult to generate enough customer interest, partner interest, and upgrade activity to meet program goals. Regional or statewide approaches are often more attractive to contractors, lenders, utilities, and other partners than smaller markets defined by neighborhoods or city boundaries because they align with more typical service territories. Programs have found that larger contractors often are not interested in working in multiple cities or towns that have varying qualifications procedures and incentive rules. Utility partners are often better able to engage with a program offering services across a large segment of their customers. Historically, credit unions, community banks, CDFIs, and national lenders already specializing in energy efficiency loans have been more receptive to partnerships with residential energy efficiency programs.
Close
Examples
The following resources are examples from individual residential energy efficiency programs, which include case studies, program presentations and reports, and program materials. The U.S. Department of Energy does not endorse these materials.
Toolbox
The following resources are available to help design, implement, and evaluate possible activities related to this handbook. These resources include templates and forms, as well as tools and calculators. The U.S. Department of Energy does not endorse these materials.
Topical Resources
The following resources provide additional topical information related to this handbook, which include presentations, publications, and webcasts. Visit Examples for materials from and about individual programs.
Last Updated: 12/12/2016