Getting Started
Whether you are serving a new market where there have been no residential energy efficiency programs in the past or offering new services to complement existing programs, the Better Buildings Residential Program Solution Center has the information and guidance you need to get started.
The Better Buildings Residential Program Solution Center is a repository for key lessons, resources, and knowledge collected from the experience of these efforts. It helps program administrators and their partners plan, operate, and evaluate residential energy efficiency programs. Take a tour of the Solution Center with this demonstration presentation and video recording.
Program Components: Primary Functions of Successful Programs
The Better Buildings Residential Program Solution Center is organized around the six primary functions that all successful programs consider. Your organization might not handle each of these on its own, but will need to identify resources and partners to ensure each is addressed.
You will see these icons referenced in the Solution Center: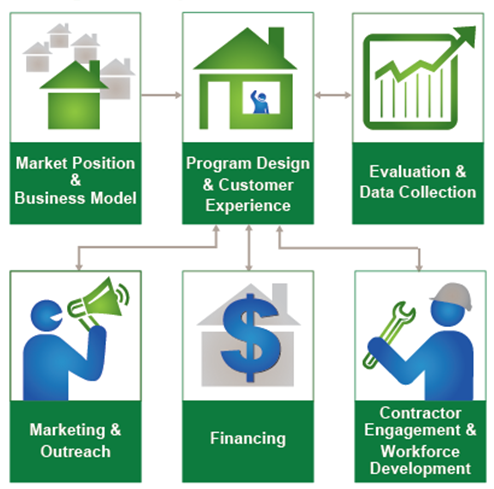 Close
Program Design Phases: Stages of Designing & Implementing a Program
The four program design phases below provide a framework for designing and implementing a successful residential energy efficiency program. These are not necessarily sequential and can be considered concurrently. Designing an effective program is often an iterative process of revisiting several stages in order to establish a program, while continuing to refine your design to achieve your program's goals.
Strategy Development
Planning
Implementation
Evaluation
The Residential Program Solution Center includes detailed guidance, templates, tools, and examples for each step and program component to help you establish or refine a residential energy efficiency program.
You will see these icons referenced in the Solution Center:

Close
Handbooks: Guidance & Examples
The Better Buildings Residential Program Solution Center is composed of nearly 60 handbooks. A handbook is a reference manual that explains why and how to implement specific stages of a residential energy efficiency program. Links to handbooks are designated by the

icon.

Each handbook contains a series of tabs that allows users to quickly identify the type of information and resources they are looking for. The tabs are: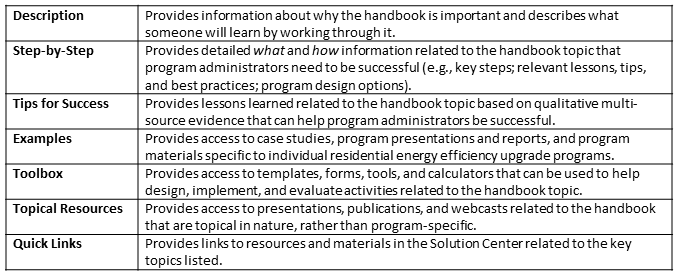 Close
Tips for Success: Lessons from Successful Programs
In recent years, hundreds of communities have been working to promote home energy upgrades through programs such as the Better Buildings Neighborhood Program, Home Performance with ENERGY STAR®, utility-sponsored programs, and others. See the Tips for Success in each handbook or download the handouts below to get started on learning from these programs.
Download Lessons Learned handouts:
Close
Customize Your Solution Center Content
Residential Program Solution Center users have the option to register to create a personal user account. Click "Register" in the upper right corner of the Solution Center and fill out the account information. By creating a user account, you can enhance and customize your use of the tool. Registered users can:
Save handbooks and other materials in their customizable "My Favorites" folders. Look for the icon to quickly add content you want to save.
Subscribe to email updates about Solution Center content. Look for the "Subscriptions" tab in your user account to manage your subscription preferences.
Close
Close All
Feedback

If you have content that you think would be a helpful addition to the Better Buildings Residential Program Solution Center, or have general comments, questions, or feedback related to your experience using the Solution Center, we would love to hear from you. Your comments and suggestions will help us determine what to fix, identify information gaps, and find additional resources.

Please see the Resource Submission page for instructions on how to submit content.

Please send your questions and feedback to us at BBRPSolutionCenter@ee.doe.gov.